TERMS & CONDITIONS INDEX

1. Making a Purchase
The following terms and conditions apply to all transactions on Concepts Scotland Limited website. The placement of an order indicates your acceptance of these terms and conditions. Please read them carefully and print a copy for future use. To order goods through this website you must be at least be 18 years of age and accept delivery within the UK. We will treat each order for goods as an offer by you to purchase the goods subject to these terms and conditions.
IT IS IMPORTANT THAT YOU DO NOT SCHEDULE OR COMMENCE ANY INSTALLATION WORK UNTIL YOUR GOODS HAVE ARRIVED AND HAVE BEEN CHECKED.
Concepts Scotland Limited will allow collections or returns in person to our warehouse by prior arrangements and acceptance of goods to be returned.
By using this site, you agree to these terms of use. If you do not agree to these terms, you may not use this site. Concepts Scotland Limited reserves the right, at any time, to modify, alter, or update these terms of use.
Order Acceptance and Processing. All orders are accepted when your credit / charge / debit card is processed. Any email or other acknowledgment of your order is merely to report that your request has been received and will be looked at and does not in any way denote acceptance of your order regardless of any wording on the email. Concepts Scotland Limited reserves the right, at any time prior to acceptance, to refuse any order or any part of an order, or to require further or better information to enable it to evaluate and/or process the order.
We do not store credit card details nor do we share customer details with any 3rd parties.
2. Description of Goods
All images, descriptive matter, specifications and advertising on our site are for the sole purpose of giving an approximate description of the goods. All specifications given to the Customer are approximate and intended as a guide only. We always endeavour to ensure all product descriptions are correct, but advise customers to seek technical advice from qualified sources prior to ordering products and any work to be carried out.
Whilst we make every effort to reproduce the colours of the products correctly slight variations may occur during the print and photography process.
Please note that certain products such as bathroom furniture may need some alteration to suit specific requirements, such as pipe work, space constraints and designs. Any such alterations are carried out at the customers own risk, and as such the product guarantees may be rendered invalid.
3. Special Orders
Special orders are made to customers own specification and therefore cannot be cancelled. Please bear in mind that as these products are bespoke delivery times may vary.
On receipt of an order we will e-mail the purchaser detailing receipt of order and lead time. We will also indicate whether the item ordered is indeed a special order as special order items that cannot be cancelled and we will ask for confirmation that you accept the lead time and that you understand that once processed the order cannot be cancelled.
All orders cannot be cancelled once despatched and if the client requests a return to our warehouse, shipping costs and a restocking charge of 25% of the value of the order will be deducted from the refund payable back to the client.
4. Payment and Price
We are entitled to make adjustments to the price to take account of any increase in our supplier's prices or the imposition of any taxes or duties, or if due to an error or omission the price published for the goods is wrong whether or not the order has been confirmed. Any price changes will be advised and agreed prior to accepting your order. We ask that all goods be paid for on completion of order and that all funds are cleared prior to delivery. We accept most major credit and debit cards such as VISA and MASTERCARD. On the order you must provide us with your exact billing address and telephone number - the address and telephone number your credit card bank has on file for you. Incorrect information will cause a delay in processing your order. PLEASE NOTE that all credit card payments are subject to a 2% charge. Debit card payments do not incur any charges.
We accept:
In the event that there is a pricing error on the website or in our printed catalogues then Concepts Scotland Limited will not be bound to honour any orders made at that price. PLEASE NOTE: We only accept Debit/Credit card payments from cards registered to an address within the UK. All prices on our website include VAT at the standard rate of 20% AND ARE QUOTED IN POUNDS STERLING. For purchases from outside the UK please contact us to allow us to quote delivery charges and accept credit/debit cards payment by telephone.
Trade pricing. In some cases for presentation purposes, prices may be rounded to the nearest pound – however all prices will be fully detailed (including pence) in your shopping basket and in the checkout process. Please note your order will be billed inclusive of VAT. VAT will be taken up front and is the trade account holder's responsibility to claim back.
Our Clients can also obtain finance, please click on this link for more information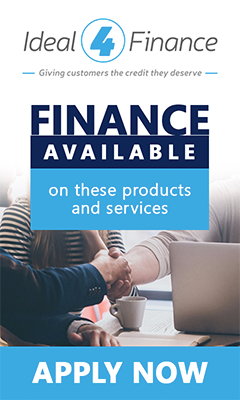 5. Delivery Information
We aim to deliver most products within 14 working days if possible; however some made to order items or special non UK stock items, may take longer and up to six weeks in some cases but such lead time will be informed on our sales order acknowledgement. Please note however that all delivery dates set out in the Dispatch Confirmation are only and always provisional. Goods are subject to availability and delay in delivery of goods is sometimes outside of our control.
If you have any questions regarding your delivery please call Concepts Scotland Limited on 01333-304185 or e-mail us at info@conceptsscotland.com
Please note that if there are any items on your order that are currently out of stock then the complete order will be delivered when these items are available. However, if you would like the items in stock to be delivered immediately then please contact us on 01333-304185 or e-mail us at info@conceptsscotland.com and we will be happy to arrange this for you subject to delivery charges. Free of charge delivery is only valid for one bulk order hence if part of an order is to be delivered prior to the remainder of the goods, there will be one delivery cost and it will be the lesser cost of the two.
If your order consists of a number of items, multiple deliveries may be required to complete the order dependant on which of our warehouses the items ordered are stocked. You will be contacted by one of our team to discuss full delivery details if this is the case.
Our delivery charges apply to mainland UK deliveries only. Any order from Northern Ireland, Southern Ireland, The Islands or any other country around the world will be specified on receipt of order interest.
Concepts Scotland Limited strongly advises you not to book your installers or engage in any preparatory work until full receipt of your goods. If any item is out of stock, a Concepts Scotland Limited sales advisor will email or telephone you to advise you of the expected delivery date.
If an order cannot be successfully completed due to the purchaser being unable to accept the goods on the date agreed, then a redelivery charge may be applicable. This cost would then be borne by the purchaser and would be charged prior to redelivery of the goods.
Or, if an order cannot be successfully completed due to the purchaser address details being incorrect, incomplete or the delivery teams unable to locate the address and or property then a redelivery charge may be applicable. This cost would then be borne by the purchaser and would be charged prior to redelivery of the goods. In any of the above instances a refund is not warranted.
If goods are ordered over the weekend or on a bank holiday the order date is taken as the following working day for delivery purposes. If a delivery would normally fall due over the Christmas or Summer shut down period the delivery period may be extended to a later date.
After completion of your order please check your receipt and ensure that all the details are correct. If you are in any doubt please contact our sales department immediately as post-delivery changes take time and can be an inconvenience to you.
Please note that all deliveries (unless specified on the product page) will be delivered by a one man delivery service, so please ensure that assistance is available at the delivery address if required. For palletised deliveries, the goods will be delivered as close as possible to your front door. If this location is unreachable for any reason, such as a narrow street, up a flight of stairs (such as flats), or any other obstruction, delivery will be made as near to your property as possible. For palletised deliveries, the driver is NOT insured to take the goods inside your property. The pallet will be delivered to a location as stated above, and it is strongly recommended that at least 2 able bodied persons are available to receive the delivery and carry the goods inside. For any palletised deliveries you will be contacted by one of our customer service advisors that will discuss the delivery in full detail.
If your item is not in stock we will back order for you, or give you the option to cancel your order if you would rather not wait. Please ensure that all goods are checked by yourself and we ask that any problems are reported by calling us on 01333-304185 or e-mail us at info@conceptsscotland.com

Provided you have notified us of a problem with the goods within 2 days of the date of delivery, then we will (subject to stock availability) make good any shortage, and replace or repair any damaged items.
As soon as we have delivered the goods to your door you will be responsible for them. We will only deliver to the address on the order and goods will not be left without a signature unless authorised by the person named on the order. From the time of receipted delivery of the goods, any loss or damage to the goods shall be at your own risk.
Delivery charges can be found under "Delivery & Returns" on our home page. Goods are subject to availability and delay in delivery of goods is sometimes outside of our control, and we accept no liability whatsoever in respect to late deliveries and/or any costs incurred.
6. Cancellations and Returns
All non-faulty goods must be returned within 7 working days starting from the day after receipt of the goods, and we ask that all goods are correctly re-wrapped, and in their original packaging. Please note that a collection charge will be implemented for all non-faulty returns and that this must be paid prior to any collection being processed and shall be a maximum of the charge payable by us to the courier. Concepts Scotland Ltd. will refund your money on orders within 7 days of the goods arriving at one of our warehouses less any delivery cost as detailed previously and after inspection. Returns outside 7 days will not be accepted. Any returns notified within 7 days may be subject to an additional 25% restocking charge. Any special order or made to measure order cannot be cancelled or returned. On cancellation for any reason, goods CANNOT be returned by yourself; this is to ensure that all goods are safely and correctly returned to avoid damages and ensure that all collections/returns are insured.
Products damaged in transit must be noted at the time of delivery, documented on the delivery note and delivery refused. It is the customer's responsibility to check the Products for damage with the delivery driver and to notify us of any damages within 2 days accompanied by an e-mail detailing the fault and a photograph of the damged product. We will not accept claims for Products damaged in transit that were signed for as being in good condition. Where the goods are being returned because they are incorrect or damaged then we will meet the cost of the return, but we must ask that you allow us to nominate the carrier.
With credit card orders no returns are allowed after the 14 day cooling off period.
You will not have any right to cancel a Contract for the supply of any Products:
i) that have been custom made to suit your specifications;
ii) which by reason of their nature cannot be returned
If you have any questions regarding cancellations, damages or returns then please call us on 01333-304185 or e-mail us at info@conceptsscotland.com
7. Other
You will own the goods once we have received your payment in full of all sums due in respect of the Products, including delivery charges. We will issue you with an electronic invoice once we have dispatched the goods to you. Failure by us to enforce any of these terms and conditions will not affect our right to enforce the rest of these terms and conditions. These terms and conditions are subject to change at any time without prior notice to you.
8. Guarantees
All our products are covered by a minimum 12 month guarantee. For further details on extended warranties offered by each individual manufacturer, please contact us on 01333-304185 or e-mail us at info@conceptsscotland.com. Terms and Conditions do not affect your statutory rights.
9. Privacy Policy
Concepts Scotland Limited do not store credit card details nor disclose buyers' information to third parties other than when order details are processed as part of the order fulfilment. In this case, the third party will not disclose any of the details to any other third party. Cookies are used on this shopping site to keep track of the contents of your shopping cart, to store delivery addresses if the address book is used and to store your details if you select the 'Wish List' Option. They are also used after you have logged on as part of that process. You can turn off cookies within your browser by going to 'Tools | Internet Options | Privacy' and selecting to block cookies. If you turn off cookies, you will be unable to place orders or benefit from the other features that use cookies. Data collected by this site is used to:
a. Take and fulfil customer orders
b. Administer and enhance the site and service
c. Only disclose information to third-parties for goods delivery purposes For the full company privacy policy, please see the Privacy Policy section.
10. Copyright
All rights in the site design, text, graphics and other content, interfaces, and the selection and arrangements thereof belong to Concepts Scotland Limited. All rights are reserved save as set out below. Permission is granted to electronically copy and to print hard copy portions of this site for the sole purpose of placing an order with Concepts Scotland Limited or using this site as a shopping resource. Any other use of materials on this site, including reproduction for purposes other than those noted above, modification, distribution, or republication is strictly prohibited.
About:
Access to, use of and shopping at www.conceptsscotland.com, and any other sub domains is provided by Concepts Scotland Limited on the terms and conditions as stated on this page.
By using and or continued use of the websites and associated sub domains, you agree to be bound by these terms, which shall take effect immediately on your first visit to the website. If you do not agree to be bound by all of the following terms please do not access, use and shop at www.conceptsscotland.com
Addition to Copyright
Concepts Scotland Limited make every effort to provide unique and useful information and updates to its customers regarding Industry & Product News, Company News and Latest Products through our 'News' section and other sources on the Concepts Scotland Limited websites and other websites administered and owned by Concepts Scotland Limited.
All of the content presented in any shape or form located on the website is professionally authored and the sole ownership of Concepts Scotland Limited. You may not copy, reproduce, republish, disassemble, decompile, reverse engineer, download, post, broadcast, transmit, make available to the public, or otherwise use www.conceptsscotland.com content in any way except for your own personal, non-commercial use. You also agree not to adapt, alter or create a derivative work from www.conceptsscotland.com except for your own personal, non-commercial use.
Any persons, websites and website owners, but not limited to, in breach might be pursued by Concepts Scotland Limited. For Product Descriptions terms, please see 'Description of Goods'
12. Disclaimer and Limitations on Concepts Scotland Limited Liability
WITHOUT PREJUDICE TO STATUTORY RIGHTS AFFORDED TO PURCHASERS OF PRODUCTS, THE INFORMATION AND MATERIALS CONTAINED IN THIS SITE, INCLUDING, WITHOUT LIMITATION, TEXT, GRAPHICS, AND LINKS, ARE PROVIDED ON AN "AS IS" BASIS WITH NO WARRANTY, AND IN PARTICULAR, CONCEPTS SCOTLAND LIMITED DOES NOT REPRESENT OR WARRANT THAT THE INFORMATION ACCESSIBLE VIA THIS SITE IS ACCURATE, COMPLETE OR CURRENT, OR THAT USE OF THE SITE IS FREE OF RISK OF VIRUSES OR OTHER DAMAGE. PRICE AND AVAILABILITY INFORMATION IS SUBJECT TO CHANGE WITHOUT NOTICE. PRODUCTS PURCHASED FROM CONCEPTS SCOTLAND LIMITED AND RELATED SERVICES, WHICH ARE PROVIDED BY CONCEPTS SCOTLAND LIMITED, ARE WARRANTED IN ACCORDANCE WITH LAW, AND NOTHING HEREIN IS TO BE TAKEN TO EXCLUDE OR RESTRICT ANY RIGHTS, WHICH APPLICABLE LAW GRANTS TO CONSUMERS IN RESPECT OF SUCH PRODUCTS OR SERVICES. INDIVIDUAL PRODUCTS MAY BE THE SUBJECT OF ADDITIONAL WARRANTIES OR GUARANTEES GIVEN BY THEIR MANUFACTURERS DIRECTLY. SUCH WARRANTIES ETC. ARE NOT ENFORCEABLE AGAINST CONCEPTS SCOTLAND LIMITED, BUT ONLY AGAINST THE PERSON GIVING THEM.
CONCEPTS SCOTLAND LIMITED ARE RETAILERS AND NOT QUALIFIED HEATING ENGINEERS OR PLUMBERS. ALTHOUGH WE HAVE 34 YEARS EXPERIENCE IN THE FIELD OF HEATING, PLUMBING, KITCHEN OR BATHROOM INSTALLATIONS WE ADVICE THAT ANY TECHNICAL QUERIES SHOULD BE DIRECTED TO A SUITABLY QUALIFIED PROFESSIONAL, I.E. A GAS SAFE GAS INSTALLER OR A MEMBER OF THE INSTITUTE OF PLUMBING. YOU AGREE THAT ANY ADVICE GIVEN BY A MEMBER OF CONCEPTS SCOTLAND LIMITED WILL NOT BE RELIED UPON WITHOUT VERIFICA